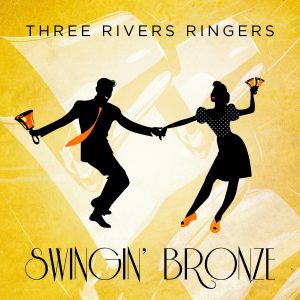 This winter, Three Rivers Ringers is absolutely thrilled to release the ensemble's third full album: Swingin' Bronze! Capturing Three Rivers Ringers' phenomenal concert performance this past spring, Swingin' Bronze is filled with hoppin', boppin', show-stoppin' hits of the American century. You'll hear ragtime, swing, the blues, rock 'n' roll, and gospel, with hits from Glenn Miller, Duke Ellington, Louis Armstrong, The Beach Boys, Journey, and much more!
Here's a gorgeous clip of one of the pieces on Swingin' Bronze: What a Wonderful World.
Share Three Rivers Ringers as a gift with all your friends and family. At only $20, every dollar helps cover the recording costs and supports the mission of your hometown handbell ensemble. Pick it up at one of the concerts this winter, or buy online!