Carols around the World

Winter 2016 Concert Series

On this day, bells shall ring… with the sound of Three Rivers Ringers! Come celebrate the holiday tradition with Pittsburgh's premier handbell ensemble at our Winter Concert Series: Carols Around the World.  Three Rivers Ringers will enchant you with the international flair of Christmas carols from England, France, Austria, Spain, Scandinavia, South America, and China. Experience the unforgettable sounds of handbells at the holidays, with favorites including Angels We Have Heard on High, a jazzy arrangement of Silent Night (à la Brubeck), the exotic We Three Kings… and many more!
Friday, December 2, 2016 at 8:00 PM
Bower Hill Community Church
70 Moffett St, Pittsburgh, PA 15243
Directions
FREE – Donations accepted
Saturday, December 3, 2016 at 2:00 PM
Emlenton United Methodist Church
1303 Kerr Ave, Emlenton, PA 16373
Directions
Visit Allegheny RiverStone Center for the Arts for details and tickets
Sunday, December 4, 2016 at 7:30 PM
St. Paul's United Methodist Church
1965 Ferguson Rd, Allison Park, PA 15101
Directions
FREE – Donations accepted
And join us for a brief performance at:
Light Up Point Breeze
Saturday, December 4, 2016 at 7:00 PM
Reynolds Street Business District, between Gettysburg St and Hastings St
Pittsburgh, PA  15206
For details, visit pointbreezepgh.org
---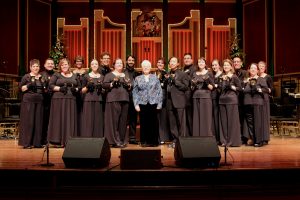 And in December 2016 Three Rivers Ringers returns to Heinz Hall to perform with the Pittsburgh Symphony Orchestra at the…
Highmark Holiday Pops
We had a wonderful time with our friends at the Pittsburgh Symphony Orchestra last December, and are extremely pleased for our repeat engagement this winter. The Holiday Pops is a Pittsburgh tradition, filled with great tunes played by the best musicians in the world, and is perfect for families. Conducted by Francesco Lecce-Chong, guest artists include Three Rivers Ringers, vocalist Capathia Jenkins, the Mendelssohn Choir of Pittsburgh, and of course Santa Claus!
Highmark Holiday Pops
Friday, December 9, 2016 at 8 PM
Saturday, December 10, 2016 at 2:30 & 8 PM
Sunday, December 11, 2016 at 2:30 PM
Saturday, December 17, 2016 at 2:30 & 8 PM
Sunday, December 18, 2016 at 2:30 PM
Heinz Hall
600 Penn Avenue
Pittsburgh, PA  15222
Directions
Tickets for the Highmark Holiday Pops are currently available here.
A list of events from previous years can be found here.
If you would like to host a concert or an educational event, please contact our Managing Director (412-229-RING, managingdirector@threeriversringers.org).