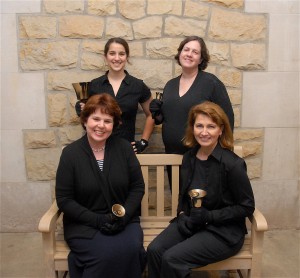 Experience the beauty of the holiday season at Noël, Three Rivers Ringers' Winter Concert Series. The virtuosity of Pittsburgh's premier handbell ensemble will be on display in four delightful selections from Tchaikovsky's The Nutcracker, Joel Raney's exotic We Three Kings, and timeless favorites like Sleigh Ride, Stille Nacht and more. We are taking the magical sound of handbells to new heights this season with concerts perfect for all ages – come join us!
Winter 2014 Concert Series:
Noël
Remaining Concerts
Saturday, December 20 – 7:30 PM
St. Paul's United Methodist Church
1965 Ferguson Rd, Allison Park, PA 15101
Directions
-Free, donations accepted
Educational Events
Western PA Handbell Festival
Saturday, April 18, 2015
John Jay Center, Robert Morris University
For details, click here.
More events will be posted as information is available.
A list of events from previous years can be found here.
If you would like to host a concert or an educational event, please contact Christopher Powell, Managing Director (412-508-8405, managingdirector@threeriversringers.org).