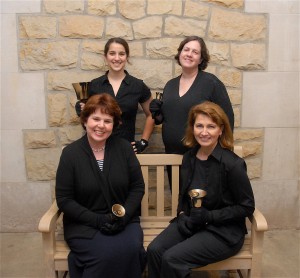 Three Rivers Ringers presents Shall We Dance?, a concert exploring the varied world of dance music. Transport yourself to Vienna and waltz along The Beautiful Blue Danube. Strike up the mariachi band and whirl to the Mexican Hat Dance. Swing in the 1940s jazz clubs with Duke Ellington, then hit today's dance floor with Lady Gaga. Step out this spring and let Pittsburgh's premier handbell ensemble sweep you off your feet!
Ticketed events are handled via ShowClix. Click or call 1-888-71-TICKETS.
Children under 12 are free with paid adult ticket.
Refunds/Exchanges are not permitted.
Three Rivers Ringers Concerts: Spring 2014

Friday, April 25, 2014 – 8:00pm*
Bower Hill Community Church
70 Moffett St, Pittsburgh, PA 15243
Directions
*Tickets $7 in advance or $10 at door

Saturday, April 26th, 2014 - 5:00pm
East Liberty Presbyterian Church
116 S. Highland Ave, Pittsburgh, PA 15206
Directions
Sunday, April 27, 2014 – 3:00pm
St. James Catholic Church
200 Walnut St, Sewickley, PA 15143
Directions
(Concert opener at 2:30 – Center for Young Musicians)
Saturday, May 3, 2014 – 7:00pm
Westlake United Methodist Church
27650 Center Ridge Rd, Westlake, OH 44145
Directions
Saturday, May 10, 2014 – 7:00pm
*
First Presbyterian Church, 1793
100 E. Wheeling St, Washington, PA 15301
Directions
*Tickets $7 in advance or $10 at door
Educational Events

Western PA Handbell Festival
Saturday, April 5, 2014
John Jay Center, Robert Morris University
For details,
click here
.
More events will be posted as information is available.A list of events from previous years can be found here.
If you would like to host a concert or an educational event, please contact Andy Seay, Managing Director (412-508-8405, managingdirector@threeriversringers.org).