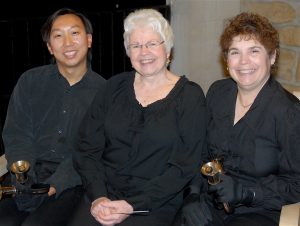 Three Rivers Ringers is Pittsburgh's premier community handbell ensemble. We are dedicated to advancing the art of handbell ringing through educational programming and performance at the highest artistic level. The ensemble was founded by five handbell musicians from Pittsburgh in March 2010, and is incorporated in Pennsylvania as a non-profit organization.
The seed for Three Rivers Ringers grew out of our passion for the art form of handbells and our desire to achieve musical excellence with challenging repertoire while pushing the boundaries of the handbell medium. We have worked tirelessly to create a unique group, composed of talented musicians with a wide breadth of experience and our innovative artistic staff. Our directors and members have volunteered significant time to developing all aspects of the organization from the ground up, from marketing to finances, quite apart from rehearsal and solo practice time—for which we are extremely grateful!
Members were selected by audition in September 2011 and represent various neighborhoods in Western Pennsylvania. We rehearse at Mt. Lebanon United Methodist Church and use the church's handbells and equipment, consisting of 6 octaves of Schulmerich handbells and 6 octaves of Schulmerich & Malmark handchimes. The operating budget is funded by contributions from the members of the ensemble, our Board of Directors and community support. As a public charity under Section 501(c)3, donations to Three Rivers Ringers are tax-deductible. Three Rivers Ringers is a member of the Greater Pittsburgh Arts Council.
Three Rivers Ringers gave a triumphant debut concert at Bower Hill Community Church on December 10th, 2010, and gave several other performances during the 2010-2011 concert season.
TRR greatly expanded our concert schedule during the 2011-2012 concert season, giving 12 public performances, as well as organizing and presenting educational events such as the Western Pennsylvania Handbell Festival.
In the current 2012-2013 season, we have 14 public performances planned, plus private events. Please join our mailing list and follow us on Facebook for updates on all TRR events.
Three Rivers Ringers exists to advance the art of handbells.  We are available to give concerts throughout the tri-state area, and also offer educational programs for ringers and directors. For booking information, contact Andy Seay.
The Artistic Director of the Three Rivers Ringers is Nancy Lutz.
Andy Seay is the ensemble's Managing Director & Associate Conductor.
A bio for Nancy Lutz can be found here.
Bios of the 2011-2013 Three Rivers Ringers can be found here.