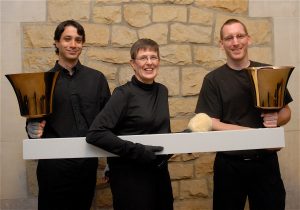 Three Rivers Ringers is pleased to recognize all donors who have contributed to us in the last 12 months. Thank you for making Three Rivers Ringers possible!
Individual Donors
Anonymous (9)
Carole J. Adams
Jane Adamson
Matthew and Erlina Mae Adler
Betty Lou Albright, In Honor of Nancy Lutz, Artistic Director
Lori & Chip Amos
Yvonne Amos
Deb Artim
Chuck Ayers
Louanne Baily
Bishop George & Carolyn Bashore
Mary Lou Beck
Dave & Barb Berkeybile
Bill & Sheila Black
Wendy Blotzer
Linda Boice
Sarah Boice
Jim Brookhart Family
Dianne Buirge
Margaret V. Burke
Ruth Ann Burke
Grant Calhoun
Dr. Gary Toth & Dr. Debra Carberry
Pamela Carney
The Claudy Family
Andy Coleman
Rhonda Cook
Karen Cooper
Cindy Cutenese
Bjorn & Beth Dakin
Constance Denton
Liz DiPietro
Cynthia Donahoe
Ron & Dianna Dunnington
Lorraine Dyer
Anne & Michael Ehrenberger
Julie Emanuel
John Esaias
Frank & Lisa Falcione
Judith & Donald Feigert
Dan Fernandez
Bonnie Finks
Nancy Foltz
Carole Fruehstorfer
Clifford Funk
Lynn Getty
Christine M. Gipko
Bill & Shelby Gracey
Chuck & Karen Hanks
Donna & Lane Harrison
Walt & Lynn Heintzleman
Clif & Rosemary Highman
Camille Hileman
Marilyn M. Hines
Lane & Donna Harrison
Audrey Hormel
Colette M. Hucko
Shirley Iman
Gail & Tim Jackson
Paul & Kathy Jacobs
Pat Kaczmarek
Carol Karl
Valerie Kennedy
William & Nancy Kennedy
Warren Kinneer
Donna Kinsey
Jane Knothe
David & Rise Kostilnik
Thelma Kranyak
William & Verna Kratzenberg
Helen Krichbaum
Scott Krichbaum
Diane Kuhn
Linda L. Lawrence
David & Nan Leslie
Lynne Lightfoot
Janet Lord
Mary Lucas
Jim & Nancy Lutz
The Lynch Family
Alice & Ed Marotta
Suzanne McAnallen
Charles McChesney
Bernice McCort
Ronald McKenzie
Audrey Means
Dr. Donald & Beth Mercer
Sara Mercer
Bill & Bernice Merchant
Daniel & Beth Merry
Caryl Miller
Jeffrey Miller & David McDougal
Judith Miller & David Reed
Linda D. Minnotte
Sam & Patty Mitchell
David & Elizabeth Molter
Kem Morgan
Nancy Morrison
Elizabeth & Jim Murphy
Donna Murrman
Jeff & Bethany Myers
Joseph Nachman
Robert A. Nerone D.M.D, M.A.G.D.
Phyllis Neszpaul
Bruce & Christie O'Neill
Mary & Michael Paine
Rebecca A. Panzak
Amy Parker
Aubrie Pecore
Janice Peischl
Gail Pesyna & John Hooper
Peters Family
Dino & Kathy Pikras
Gregg and Sharon Platt
Karen L. Prescott
Bob & Linda Rall
Dick & Dottie Robinson
Alice Roesmer
Carol Ann Romaine
Mr. & Mrs. Norman P. Rombach
Linda Schaeffer
Arlene & William Schlander
Andrew Seay
John & Debbie Smail
Dara Sterling
Steven Stockton
Ed Stokan Family
Margaret Stouffer
Renee Strine
Dolores B. Sulick
Nancy A. Swanson
Marilynn Sweeney
Susan Talbott
Linda M. Taylor
Dolores Thomas
Floyd & Dorothy Thomas
Janet Thomas
Karen Tomko
Jan & Doug Toth
Lesley S. Troy
Chuck & Brenda Vogel
Janice Walsh
Margie Webb, LMT
Martha Webb
Cheri & Lori Werner
Charles West*
Sandy Willliams
Chris Wolf
Ralph Yearick
Sandie Yost
*Deceased
Corporate Sponsors
LDM Sports & Embroidery
Rollier's Hardware Store
Max Environmental Technologies
Petland Pittsburgh Mills
Pet Spaw and Grooming
Plum Crazy Adventures
Radiance Chiropractic
Community Gold & Silver Buyers of Western Pennsylvania
Western & Southern Life
In Kind Support
Mt. Lebanon United Methodist Church, Rehearsal Space & Equipment
Central Highlands Community United Methodist Church, Performance Space
First Lutheran Church, Apollo, Performance Space
Mt. Lebanon United Methodist Church, Performance Space
Our Lady of Victory Church, Performance Space
Pittsburgh Symphony Orchestra, Promotional Partner
David Bachman, Photography
Amy Bickerton, Program & Promotional Design
Trish Imbrogno, Photography
Allison Jones, Logo & Web Design
Victoria Long, Photography
Three Rivers Ringers Board of Directors
Linda Minnotte, President
Mary Paine, Vice President
Beth Dakin, Secretary
Alison Peters, Treasurer
Deb Artim
Dan Fernandez
Sara Mercer

Ex-Officio
Nancy Lutz, Artistic Director
If you would like to donate to the Three Rivers Ringers, or are interested in becoming involved in the organization, please contact our Managing Director (managingdirector@threeriversringers.org, 412.229.RING)
Listing updated 4.12.2018. Every effort has been made to ensure accuracy; however, if we have not listed you correctly, please contact our Managing Director.  THANK YOU!