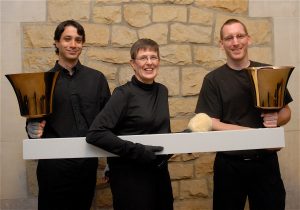 Three Rivers Ringers is pleased to recognize all donors who have contributed to us in the last 12 months. Thank you for making Three Rivers Ringers possible!
Individual Donors
Anonymous (8)
Jane Adamson
Miranda Albasini
Betty Lou Albright
Charlanne Ammon
Yvonne Amos
Kristen N. Asplin
Russ & Gloria Barber
Tim Barton
Bishop George & Carolyn Bashore
Diane M. Baum
Sandy Bizon
Sheila W. Black
Linda Boice
Kristine Briggs
Jeff & Patt Calta
A. Carney
Stacy Carroll
Laurie Kay Charlton
The Claudy Family
Evelyn Collier
Mary Corbett
Cheryl Cotton
Brenda Courson
Carolyn Covelli
Amy Coyne
Bjorn & Beth Dakin
Liz DiPietro
Cynthia Donahoe
Cathy Fabry
Frank & Lisa Falcione
Judy & Donald Feigert
Holly Ferkett
Pam Ferkett
Dan Fernandez
Peg C. Flynn
Nancy Foltz
Jack & Carole Fruehstorfer
Dustin & Kelly Fuller
Clifford & Elizabeth Funk
Mary E. Garber
Myra Garcia
Judy Gibson
Christine Gipko
Bill & Shelby Gracey
Christine Griffith
Ralph & Janice Gronlund
Lorraine Gross
Bruce Gundlach
Chuck & Karen Hanks
Diane H. Harrell
Lane & Donna Harrison
Mary Lou Haudenshield
Walt & Lynn Heintzleman
Carrilee & John Hemington
Leslie Herock
Norma Jean Hill
Sarah Hoffman
Cathy Hubbard
Colette M. Hucko
Jesse L. Huey
Marvin & Shirley Huls
Dorothy Joseph
Eric Waterhouse & Mary Kapral
Carol Karl
Valerie Kennedy
William & Nancy Kennedy
Janice King
Ellen Kuntz
Dan and Phyllis Laporte
Heather Lash
Nan & David Leslie
Lynne Lightfoot
Lynn Lostetter
David & Midge Lutz
Jim & Nancy Lutz
David Lynch
Alexandra Lynn
Mary Jo Magoc
Alice & Ed Marotta
Dolores Matejko
Charles E. McChesney
Bernice McCort
Suzy McCoy
Dr. Donald & Beth Mercer
Sara Mercer
Bill & Bernice Merchant
Diane L. Miller
Linda D. Minnotte
Sam & Patty Mitchell
David & Elizabeth Molter
Gerri Momberger
Sandi Morris
Liz and Jim Murphy
Mark & Ruth Nelson
Terry Olcsan
Bruce & Christie O'Neill
Mary & Michael Paine
Amy Parker
Marian L. Parker
Aubrie Pecore
Gail Pesyna & John Hooper
Peters Family
Gregg & Sharon Platt
Paul & Kristin Poerschke
Barb Potenziani
Karen L. Prescott
Don & Cindy Princeler
Spencer & Gayle Radnich
Bob & Linda Rall
Dick & Dottie Robinson
Alice Roesmer
Carol Ann Romaine
Stephen Russell
Linda Schaeffer
Cris Simpson
Steve Smith
Jean Sontag
Don Staff
Jeff & Dara Sterling
Steven Stockton
Ed Stokan Family
Margaret S. Stouffer
Cathy Surgot
Linda M. Taylor
Dolores Thomas
Floyd & Dorothy Thomas
Janet W. Thomas
Jan & Doug Toth
John Vag
Belinda Vallys
Peter Veltman
Chuck & Brenda Vogel
Christie Vogel
Elizabeth Vorum
Janice Walsh
Judy Weber
Donald Whitlinger
Marcia Wielgus
Sandy Willliams
David Willkens
Ann Winkelstein
Carol Wittmer
Terrance Yarlett
Sandie Yost
Ginny Zajac
Kathy Zappa
Corporate Sponsors
LDM Sports & Embroidery
Rollier's Hardware Store
In Kind Support
Mt. Lebanon United Methodist Church, Rehearsal Space & Equipment
Bower Hill Community Church, Performance Space
Center Presbyterian Church, Performance Space
Central Highlands Community United Methodist Church, Performance Space
First Presbyterian Church, 1793, Performance Space
Park Hill First Church of God, Performance Space
Perry Highway Lutheran Church, Performance Space
St. Paul's United Methodist Church, Performance Space
Pittsburgh Symphony Orchestra, Promotional Partner
David Bachman, Photography
Amy Bickerton, Program & Promotional Design
Trish Imbrogno, Photography
Allison Jones, Logo & Web Design
Victoria Long, Photography
Three Rivers Ringers Board of Directors
Linda Minnotte, President
Mary Paine, Vice President
Beth Dakin, Secretary
Alison Peters, Treasurer
Deb Artim
Sara Mercer

Ex-Officio
Nancy Lutz, Artistic Director
Dan Fernandez, Managing Director
If you would like to donate to the Three Rivers Ringers, or are interested in becoming involved in the organization, please contact our Managing Director (managingdirector@threeriversringers.org, 412.229.RING)
Listing updated 3.17.2019. Every effort has been made to ensure accuracy; however, if we have not listed you correctly, please contact our Managing Director.  THANK YOU!