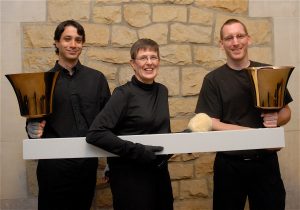 Three Rivers Ringers is pleased to recognize all donors who have contributed to us in the last 12 months. Thank you for making Three Rivers Ringers possible!
Individual Donors
Anonymous (12)
Alan & Cheryl Abel
Carole J. Adams
Betty Lou Albright, In Honor of Artistic Director, Nancy Lutz
Debra Artim
Chuck Ayers
Bishop George & Carolyn Bashore
Lynne Beck
Mary Lou Beck
Bill & Sheila Black
Wendy Blotzer
Alice & Bob Bowers
Jim Brookhart Family
Denny & Linda Brown
Margaret V. Burke
Ruth Ann Burke
Grant Calhoun
A. Carney
Glenn Child
Andy Coleman
The Claudy Family
Cindy Cutenese
Bjorn & Beth Dakin
Walter L. Dillen
Liz DiPietro
Ron & Dianna Dunnington
Peter & Sue Dyer
Mike & Anne Ehrenberger
Charles Steven Elmore
John Esaias
Frank & Lisa Falcione
Judith & Donald Feigert
Dan Fernandez
Bonnie L. Finks
Nancy Foltz
Gretchen Franz
John & Carole Fruehstorfer
Mr. Clifford Funk
Faith Geer
Christine M. Gipko
Chuck & Karen Hanks
Donna & Lane Harrison
Sue Helfrich
Camille Hileman
Marilyn M. Hines
Colette M. Hucko
Shirley Iman
Gail & Tim Jackson
John & Kathy Jacobs
Paul J. Jacobs
Pat Kaczmarek
Eric Waterhouse & Mary Kapral
Carol Karl
Ms. Miriam L. Kerr
Donna Kinsey
William & Verna Kratzenberg
Helen Krichbaum
Scott Krichbaum
Linda L. Lawrence
David & Nan Leslie
Sandy Ludman
The J. B. Lutz Family
Suzanne McAnallen
Charles & Ruth Ann McChesney
Audrey Means
Beth A. Mercer
Sara Mercer
Daniel & Beth Merry
Jeffrey Miller & David McDougal
Mary Minnick
Linda D. Minnotte
Sam & Patty Mitchell
Kem Morgan
Elizabeth & Jim Murphy
Donna Murrman
Bruce & Christie O'Neill
Mary & Michael Paine
Rebecca A. Panzak
Aubrie Pecore
Mrs. Janice Peischl
Michael & Miriam Perriello
Gail Pesyna & John Hooper
Alison Peters
Elizabeth Peters
Marcy Picardi
Dino & Kathy Pikras
Karen L. Prescott
Bob & Linda Rall
Dottie & Dick Robinson
Carol Ann Romaine
Mr. & Mrs. Norman P. Rombach
Linda Schaeffer
Arlene & William Schlander
Andrew Seay
John & Debbie Smail
Debbie Sowa
Jeffrey & Dara Sterling
Steven Stockton
Celeste Stokan
Margaret Stouffer
Renee Strine
Dolores B. Sulick
Nancy A. Swanson
Linda M. Taylor
St. Paul's United Methodist Church
Floyd & Dorothy Thomas
Mrs. Janet W. Thomas
Jan & Doug Toth
Lesley S. Troy
Chuck & Brenda Vogel
Janice Walsh
Jon & Carol Walton
Martha Webb
Sandy Willliams
Justin Winders
Chris Wolf
Jaclyn & Brian Wood
Ralph Yearick
Sandie Yost
Corporate Sponsors
LDM Sports & Embroidery
Rollier's Hardware Store
Petland Pittsburgh Mills
Pet Spaw and Grooming
Plum Crazy Adventures
Community Gold & Silver Buyers of Western Pennsylvania
In Kind Support
Mt. Lebanon United Methodist Church, Rehearsal Space & Equipment
Anonymous Donor, Silver Melody Bells
Bower Hill Community Church, Performance Space
St. Paul's United Methodist Church, Performance Space
St. Stanislaus Kostka Church, Performance Space
St. Stephen's Church, Performance Space
Pittsburgh Symphony Orchestra, Promotional Partner
David Bachman, Photography
Amy Bickerton, Program & Promotional Design
Trish Imbrogno, Photography
Allison Jones, Logo & Web Design
Victoria Long, Photography
Three Rivers Ringers Board of Directors
Linda Minnotte, President
Mary Paine, Vice President
Beth Dakin, Secretary
Alison Peters, Treasurer
Deb Artim
Dan Fernandez
Sara Mercer

Ex-Officio
Nancy Lutz, Artistic Director
If you would like to donate to the Three Rivers Ringers, or are interested in becoming involved in the organization, please contact our Managing Director (managingdirector@threeriversringers.org, 412.229.RING)
Listing updated 11.23.2017. Every effort has been made to ensure accuracy; however, if we have not listed you correctly, please contact our Managing Director.  THANK YOU!