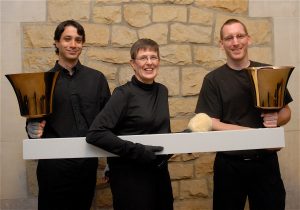 Thank you for making the Three Rivers Ringers possible!
Donors
Anonymous (10)
Matt Adler
Kathleen Amant
Bonnie & Harold Amos
Louanne Baily, In Memory of Ed Yost
Lorraine & Dave Bansavage
Russ & Gloria Barber
Donna J. Bauman
Mary Baumbach
Karina Bharne
Amy Bickerton
Brian Blackall
Linda Boice
Alice M. Bowers
Robert & Karen Brown
Lynn & Robert Bruhn
Margaret V. Burke
Ruth Ann Burke
William R. Cadwell
Dave & Sharon Carver
Betsy Charles
Glenn & Sally Child
Christine Cohen
Paulette Colonna
Stacy Corcoran
Mary & John Creighton
Lori Cunningham
Lorraine & George Cup
Beth Dakin
Marie Dillen
Elaine A. Dively
Mark & Debra Drobka
Peter & Lorraine Dyer
David & Mary Alice Donaldson,
In Memory of Ed Yost
Dr. David Edwards
Lisa Falcione
Dan Fernandez
Fern & Thomas Frank
Gretchen Franz
Chauncey & Magdaline Frazier
Sue & Ned Garnhart
Daniel & Janet Greene
Cindi Hanayik
Mr. & Mrs. Daniel Hepler
Walt & Elaine Herr
Alan & Betsy Hohlfelder
Audrey Hormel
Pete & Laurel Isager
Alan & Leslie Itskowitz
Mary Kapral
Dr. & Mrs. Kenneth B. Kelley
Phyllis & Daniel Khalil
Elizabeth L. Kipila
Tammy L. Kotyk
Barbara J. Larimer
Barb Leary
Pat Leiphart
Lynne Lightfoot
Sandy Ludman
Greg & Martha Lutz
Jim & Nancy Lutz
Mrs. Shirley Lutz
Gretchen McBride
Richard & Judith McCandless
Suzanne McCoy
Mike McCrary
Chris MacKeith
Sara A. Mercer
Bernice K. Merchant
Dan & Beth Merry
Judy Miller & David Reed
Linda D. Minnotte
Liz & Dave Molter
Jim & Karen Morrell
Carol & Peter Morris
Alex Mysliwiec
Dr. Robert A. Nerone
Bruce & Christie O'Neill
Michael & Mary Paine
Lucinda & Lillian Peterle
Alison Peters
Cecilia A. Peterson
Susan E. Pierce
Amy & Andy Pople
Don & Cindy Princeler
June Lowe Rayner
Loraine Reed
Samantha Reid
Cynthia & Jerome Richey
Richard & Dorothy Robinson
Carol Romaine
Garnet Roth
Jackie Rupprecht
Julie & Timothy Russell
Marie & Jimmy Sandridge
Babs & Dave Sharp
Andy Seay
Donald R. & Janet P. Seay
Dot Shreve
Matthew & Alice Simmons
Randy & Susan Simmons
Charlotte M. & David W. Stephenson
Eric Stephenson
Suzanne & Ron Stewart
Steven Stockton
Margaret Stouffer & William Schauffler
Judith Sutton
Irene & David Tabish
Janet W. Thomas
Terry Thomas
Joyce Thompson
Janet & Doug Toth
Lesley S. Troy
Carol J. Walton
Charlie & Marcia West
Brian & Jaclyn Wood
Jonathan & Nicole Wooding
Agnes Yanchak
Anne Yearick
Marjorie  Yearick
Phyllis Yohe
In Kind Support
Betsy Charles, Auditions Judge
Trish Imbrogno, Photography
Allison Jones, Logo & Website Design
Victoria Long, Photography
Mt. Lebanon United Methodist Church, Rehearsal Space & Equipment
Bower Hill Community Church, Performance Space
St. Stephen's Church, Performance Space
Pittsburgh Symphony Orchestra, Promotional Partner
Amy Bickerton & Jake Rheinfrank, Program & Promotional Design
The Three Rivers Ringers Board of DirectorsLinda Minnotte, President
Mary Paine, Vice President
Nancy Lutz, Secretary
Dan Fernandez, Treasurer
Robert Brown, Member, Board of Directors
Beth Dakin, Member, Board of Directors
Ex-Officio
Andy Seay, Managing Director

If you would like to donate to the Three Rivers Ringers, or are interested in becoming involved in the organization, please contact Andy Seay, Managing Director (managingdirector@threeriversringers.org, 412-508-8405)
Listing updated 11.17.12. Every effort has been made to ensure accuracy; however, if we have not listed you correctly, please contact Andy Seay.  THANK YOU!