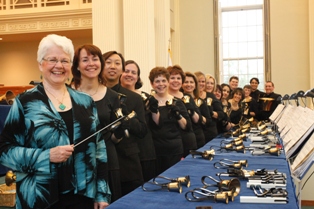 Attention handbell ringers and directors! Would you like to hear some of the latest music published this spring? Please join Three Rivers Ringers for an Area II Read & Ring on Saturday, June 9th. Join Three Rivers Ringers in ringing through twenty new releases from major handbell publishers, including music of various ringing levels and for various occasions throughout the liturgical year. Get a head start on planning for the upcoming season, and you'll also get a chance to meet and ring with members of the Three Rivers Ringers.
The Read & Ring will be held at:
Asbury Center, Mt. Lebanon United Methodist Church, Mt. Lebanon, PA
3319 West Liberty Ave, Pittsburgh, PA 15216
10:00am-1:00pm
The registration fee is $10 per person; for more information, or to register, please click here, as registrations are handled directly through Area II of the Handbell Musicians of America.   Questions? Please contact us at education@threeriversringers.org or 412.508.8405.