Description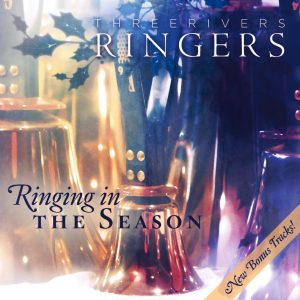 Due to popular demand, we are pleased to release a new edition of Ringing in the Season, now with two new bonus tracks! We have added The First Noël, the powerful and dramatic hit we played at the 2015 Holiday Pops concerts. We have also added We Three Kings, one of our very favorite pieces, full of a variety of musical colors, which is the solo piece we played at the 2016 Holiday Pops.
But before the two bonus tracks, enjoy our December 2013 concert program, including the fireworks of Bizet's Farandole, Liszt's majestic setting of Adeste Fideles (O Come All Ye Faithful), the lovely Silver Bells, and much more.
Purchase your copy today! They make excellent stocking stuffers, as does the original Ringing in the Season disc.
Track Listing
[1]  Here We Come A-Wassailing     2:54
arr. Jason W. Krug
[2]  The Angel Gabriel from Heaven Came     4:16
arr. Joel Raney
[3]  What Is This Lovely Fragrance?     3:45
arr. Fred Gramann
[4]  Greensleeves     5:56
arr. Cathy Moklebust
[5] In the Bleak Midwinter     4:24
Gustav Holst, arr. Karen Lakey Buckwalter
[6] Go Tell It on the Mountain     3:03
arr. William Gross
[7] Hark! The Herald Angels Sing     4:02
Felix Mendelssohn, arr. Cathy Moklebust
[8] Sleigh Ride     3:16
Leroy Anderson, arr. Martha Lynn Thompson
[9] Silver Bells     2:53
Jay Livingston & Ray Evans, arr. Cynthia Dobrinski
[10] I Wonder as I Wander     3:49
John Jacob Niles, arr. Karen Lakey Buckwalter
[11] Adeste Fideles     3:27
setting by Franz Liszt, trans. Andy Seay
[12] Farandole, from L'Arlesienne Suite No. 2    4:20
Georges Bizet, trans. William Griffin
[13] Stille Nacht     3:04
Franz Gruber, arr. Betty Garee
[14] We Three Kings     4:06
John H. Hopkins, Jr., arr. Joel Raney
[15] The First Noël     5:16
Traditional English Carol, arr. Cathy Moklebust