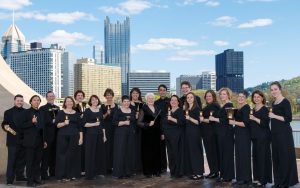 Celebrate the sights and sounds of spring this April and May with Three Rivers Ringers! Pittsburgh's premier handbell ensemble presents Sensations of Spring, the Spring 2018 Concert Series that features the entrancing music of springtime across many genres. You'll hear music popularized by diverse artists such as Burt Bacharach, Frank Sinatra, Henry Mancini – even The Muppets – plus some of our favorite classical and spiritual pieces. Come ring in the spring with Three Rivers Ringers!
Sensations of Spring

Spring 2018 Concert Series
All concerts FREE, with donations encouraged.
Sunday, April 22, 2018 at 6:30 PM
First Lutheran Church
214 N Pennsylvania Ave
Apollo, PA  15613
Sunday, April 29, 2018 at 4:30 PM
Central Highlands Community United Methodist Church
100 Timothy Dr
Elizabeth, PA  15037
Sunday, May 6, 2018 at 5:30 PM
Our Lady of Victory Church
1319 Low Grade Rd
Harwick, PA  15049
Friday, May 18, 2018 at 8:00 PM
Mt. Lebanon United Methodist Church
3319 W Liberty Ave
Pittsburgh, PA  15216