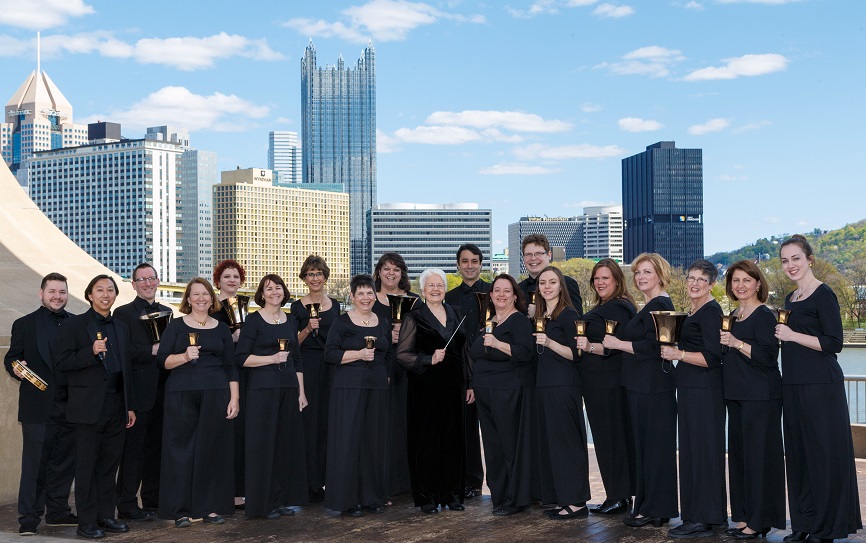 Deb Artim has been playing handbells for 20 years and piano since she was four years old. She works as an instructor in Neuroscience at the University of Pittsburgh. Deb is the elected Ringer Representative to the Board of Directors for Three Rivers Ringers.
Bobbie Calhoun lives in South Park and has been involved with music forever. She initially played flute and piccolo, but has focused on handbells for 35 years. She has degrees in Mechanical Engineering and Education, a minor in Music Education & owns a patent. She has two children and four fantastic grandsons.
Amy Collins is excited for her first season with TRR. Her love of handbells began at age eight when she learned to play. She has directed and played in several church handbell choirs over the years. Amy also enjoys quilting and traveling with her husband Regis. They live in Beaver, PA.
Beth Dakin has been ringing handbells since 1985 in choirs in Virginia, Georgia and Pittsburgh. She has a PhD in Genetics and works as a researcher in the Biology Department at Duquesne University. Beth and her husband have a son and a daughter.
Bjorn Dakin joined TRR in the 2015-2016 season. He has rung in various church bell choirs since 2000 when his wife Beth recruited him. He is an attorney joining H.A. English and Associates after being a prosecutor in Pittsburgh for nearly 17 years and lives with Beth and their son and daughter in Allison Park.
Cynthia Donahoe learned to ring handbells as a child and currently directs the Handbell Ensemble at Southminster Presbyterian Church. She is a volunteer and is the Recording Secretary for the Board of South Hills Interfaith Movement. She lives in Mt. Lebanon and has three grown daughters.
Dan Fernandez has played handbells for 32 years and is a founder and the current Managing Director of TRR. Dan is an alumnus of Carnegie Mellon University and is the Director of Marketing & Communications for the Carnegie Mellon School of Music. He plays clarinet, sings bass, and enjoys hiking and climbing.
Jeffrey K. Funk has been ringing handbells for over 20 years. He lives in the Penn Hills area and has a PhD in Chemistry from Penn State University. He has worked as the laboratory manager for MAX Environmental for over 10 years, enjoys gardening and has way too many houseplants.
Jamison Ignatius
Bill Jester is excited to be in his first year as a member of TRR. Bill first started ringing handbells at Westminster College and has since organized and directed a few small handbell groups. He lives in the Southside and also enjoys playing piano, organ, and ukulele.
Linda Minnotte has been ringing bells since 1971, is a founding member of TRR and its current President. She founded the Mt. Lebanon UMC Chapel Bells and is now an At Large National Board Member of Handbell Musicians of America. She lives in Mt. Lebanon with her husband Rick.
Alison Peters learned handbells by joining Southminster Presbyterian's Handbell Ensemble over 15 years ago. She is a CPA who has her own CPA firm.
Sarah Boice Stecker is a veteran member and Associate Conductor of TRR. She graduated from Grove City College in 2014 with degrees in English and Music and works locally as a musician and educator. She currently teaches choir, piano, and theory at Canon-McMillan High School.
Video

Upcoming Events

December 9 @ 7:00 pm

-

8:30 pm

December 10 @ 6:00 pm

-

7:30 pm