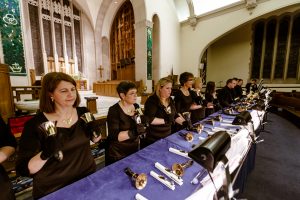 We had a great start to our Winter Concert Series, Noël, last weekend! From the enthusiastic group participation of kids at the Children's Museum of Pittsburgh to two lively crowds in Washington and White Oak, we received a great response from our audience for both the concert and our brand new CD, Ringing in the Season. Thank you one and all!
Thank you to those of you who came out and gave us a warm reception for our program that includes hits from Tchaikovsky's The Nutcracker, which features dizzying runs in the Marche, delicate technique in the Dance of the Sugarplum Fairy, and frenetic acrobatics in the Russian Dance (Trepak). But what stole the show, however, was our big finale, Cathy Moklebust's The First Noel.
There's nothing like hearing Three Rivers Ringers live and feeling the sound wash over you, but we thought you might appreciate seeing it from a different perspective. For those of you who may not otherwise get a chance to ring the biggest bronze handbell ever made, this video (recorded in rehearsal last month), is your chance!
Come to our FREE concert tonight at Bower Hill Community Church in Mt. Lebanon, or see us tomorrow in Emlenton or Sunday in Sewickley.