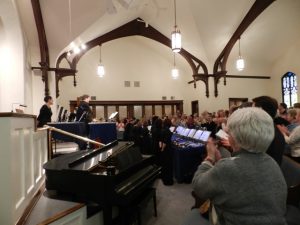 Pittsburgh's premier handbell ensemble blends old and new in our exciting Spring 2013 concert series, Handbell Classics. Hear gems from great classical composers—Brahms, Grieg, Shostakovich, Verdi and more—as well as the best of today's leading handbell composers. Join us for a concert featuring everything from bold and brassy showstoppers to serene and reflective works, from the classical to the contemporary.

We are thrilled to kick off our Spring Concerts this weekend featuring amazing music from the classical world as arranged for handbells. These pieces are among the most technically demanding we have ever performed, requiring the highest levels of dexterity, coordination, and artistry. From the beauty of Brahms' Intermezzo in A major to Shostakovich's sardonic Polka from the Golden Age Ballet to the fireworks of Vierne's Carillon, we will present these classical works alongside "new classics" from among the all-time great composers of original handbell music.
Incidentally, Louis Vierne, who was organist at Notre Dame Cathedral in Paris, actually wrote Carillon for organ with the tower bells of a great cathedral in mind; TRR is pleased to bring this tremendous piece back to the bells that inspired it!
Sunday, April 21, 4:00PM – Butler
Saturday, April 27, 7:30PM – Murrysville
Sunday, April 28, 4:00PM – Oakmont
Sunday, May 5, 4:00PM – Crafton Heights
Saturday, May 11, 8:00PM – Mt. Lebanon
Saturday, May 18, 7:30PM – Wexford
For full details and directions, visit our Events page.