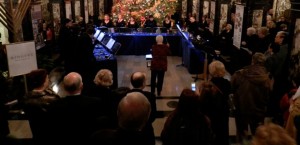 Our Winter 2012 Concert Season is upon us! We've got some amazing music we've prepared to give you this December, with our first of six performances this coming Sunday. Our concert series is entitled Gift of the Magi, after the cornerstone piece of the concert written by our own Andy Seay. This is an incredibly dramatic rendering of the classic short story written by O. Henry at the turn of the last century with absolutely beautiful music in a variety of styles. We're sure this piece will give you a new perspective–not only on the type of music we can present, but on what is important at this time of year.
On top of that great new work, we have a diverse array of holiday tunes for you, both classic and new. With some fun surprises along the way, we're sure you'll find our concerts a perfect family outing this season. Receptions will follow each concert–come for punch, cookies and to meet the Three Rivers Ringers!
Visit our events page for full details and directions.
For more information, please contact us via email or phone (info@threeriversringers.org, 412.508.8405).
We look forward to seeing you soon!